Doppelherz aktiv Vitamins for Diabetics
lactosefree
glutenfree
Vitamins for Diabetics
Special combination of vitamins and minerals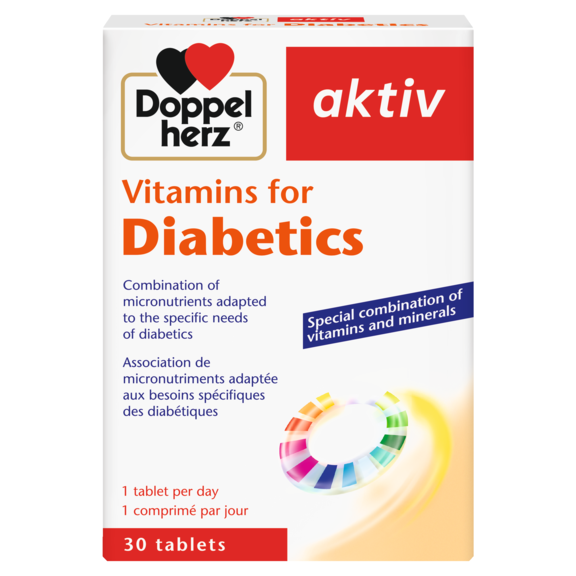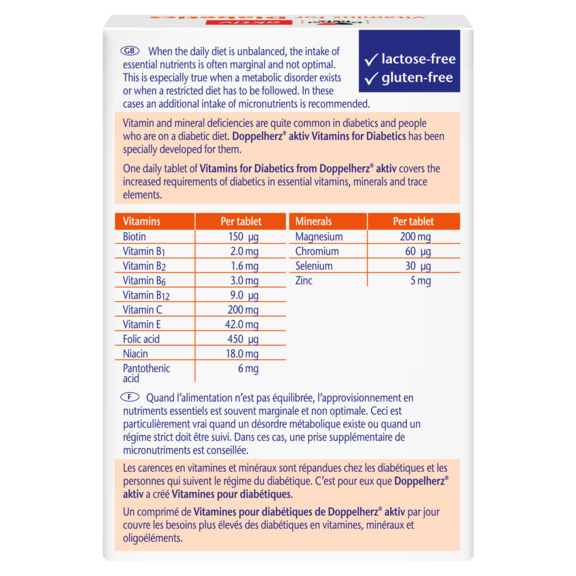 ---
Tailor-made multivitamin and mineral product for diabetics
Helps cover nutritional needs of diabetics
lactosefree
glutenfree
---
Combination of micronutrients adapted to the specific needs of diabetics
When the daily diet is unbalanced, the intake of essential nutrients is often marginal and not optimal. This is especially true when a metabolic disorder exists or when a restricted diet has to be followed. In these cases an additional intake of nutrients is recommended.
Vitamin and mineral deficiencies are quite common in diabetics and people who are on a diabetic diet. Doppelherz® aktiv Vitamins for Diabetics has been specially developed for them.

Vitamins of the B-group: Vitamins B1, B2, B6, B12, Pantothenic acid, Biotin and Folic acid are required for all the major metabolic routes: they are in particular essential for the proper function of carbohydrate metabolism. Diabetics notoriously have a higher demand in B-vitamins.

Magnesium, Zinc, Chromium and Selenium play an important role in the regulation of glycemia. They are involved in the synthesis of insulin and the sensitivity of the cells towards insulin. Magnesium status is particularly altered in diabetics.
Vitamins C and E are two powerful antioxidants that are able to scavenge free radicals. Since these harmful molecules are generated at higher levels due to metabolic disorders, an extra portion of Vitamins C and E is helpful for diabetics.

One daily tablet of Vitamins for Diabetics from Doppelherz® aktiv helps diabetics to reestablish a good micronutrient balance.
Composition
| Ingredients | per tablet |
| --- | --- |
| Biotin | 150 µg |
| Vitamin B1 | 2 mg |
| Vitamin B2 | 1,6 mg |
| Vitamin B6 | 3 mg |
| Vitamin B12 | 9 µg |
| Vitamin C | 200 mg |
| Vitamin E | 42 mg |
| Folic acid | 450 µg |
| Niacin | 18 mg |
| Pantothenic acid | 6 mg |
| Magnesium | 200 mg |
| Chromium | 60 µg |
| Selenium | 30 µg |
| Zinc | 5 mg |
Consumption recommendation
Take 1 tablet daily at meal with enough liquid. Do not chew.
Tablets can be divided into halves.
Note
Do not exceed the stated recommended daily dosage. Food supplements should not be used as a substitute for a varied diet.
The product should be stored out of the reach of children.
Do not store above 25 °C.
Ingredients
Magnesium oxide, Ascorbic acid, alpha-Tocopherol acetate, Bulking agents: microcrystalline Cellulose and Rice starch, Anti-caking agent: long chained Partial glycerides, Zinc gluconate, Anti-caking agent: Silica, Thickener: Hypromellose, Nicotinamide, Emulsifier: Gum arabic, Anti-caking agent: Magnesium stearate, Calcium-D-pantothenate, Thickener: Shellac, Pyridoxine hydrochloride, Colour: Titanium dioxide, Solvent: Water, Thiamine nitrate, Anti-caking agent: Talc, Carrier: Olive oil, Riboflavin, Folic acid, Emulsifier: Polysorbate 80, Chromium-(III)-chloride, Colour: Iron oxide, Biotin, Sodium 
Reviews
No ratings have been submitted yet. Submit your first review here.