Doppelherz aktiv Haemo Vital
glutenfree
lactosefree
Haemo Vital
Iron rich formula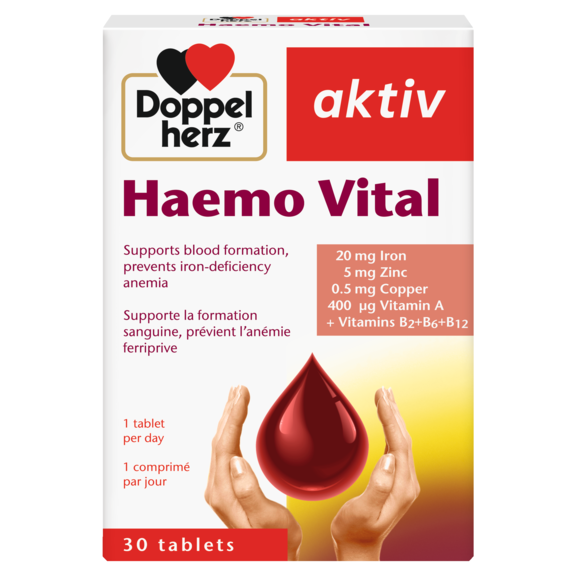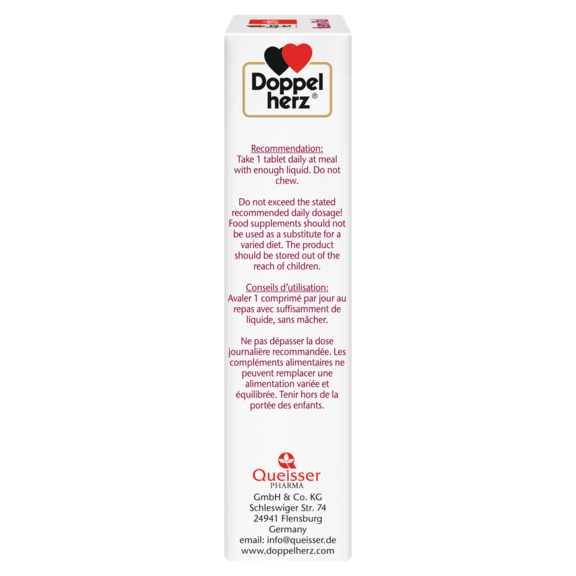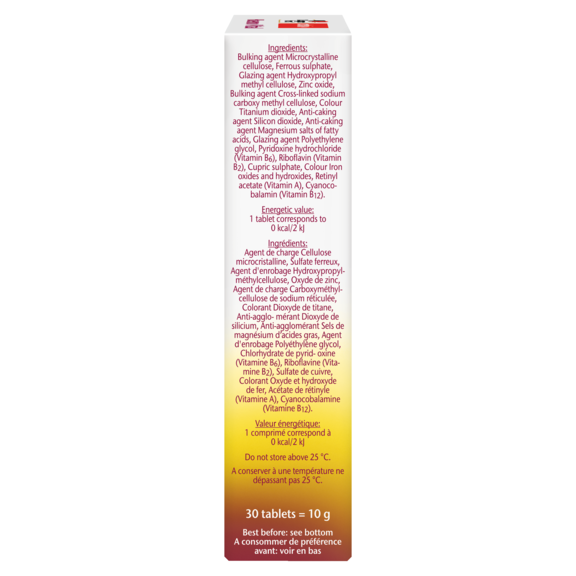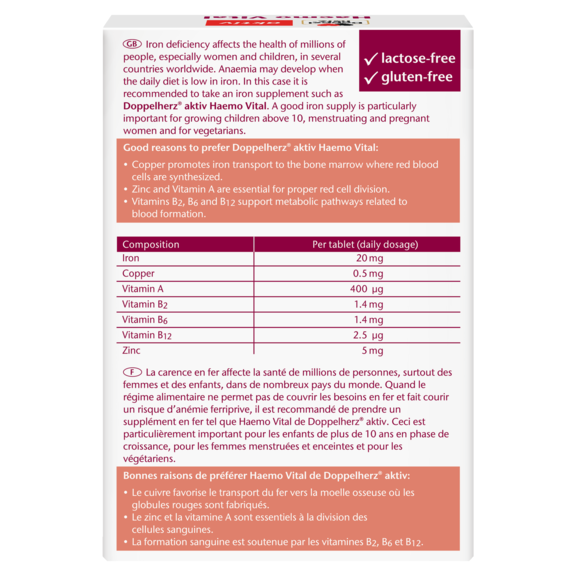 ---
Iron-enriched formula
Supports blood formation
glutenfree
lactosefree
---
Iron deficiency affects the health of millions of people, especially women and children, in several countries worldwide.
Anaemia may develop when the daily diet is low in iron. In this case it is recommended to take an iron supplement such as Doppelherz aktiv Haemo Vital.
A good iron supply is particularly important for growing children above 10, menstruating and pregnant women, and for vegetarians. In addition to its requirement for haemoglobin and red blood cell formation, iron is also needed to keep a healthy immune system and to pull energy out of the food.
Four good reasons to prefer the haematinic formulation of Doppelherz aktiv Haemo Vital:
It is gentle to the stomach
Copper promotes iron transport to the bone marrow where red blood cells are synthesized
Zinc and Vitamin A are essential for proper red cell division
Vitamins B2, B6 and B12 support metabolic pathways related to blood formation
Composition
| Ingredients | per tablet |
| --- | --- |
| Iron | 20 mg |
| Copper | 500 µg |
| Vitamin A | 400 µg |
| Vitamin B2 | 1,4 mg |
| Vitamin B6 | 1,4 mg |
| Vitamin B12 | 2,5 µg |
| Zinc | 5 mg |
Consumption recommendation
Take 1 tablet daily at meal with enough liquid. Do not chew.
Note
Do not exceed the stated recommended daily dosage. Food supplements should not be used as a substitute for a varied diet.
The product should be stored out of the reach of children.
Do not store above 25 °C.
Ingredients
Bulking agent Microcrystalline cellulose, Ferrous sulphate, Glazing agent Hydroxypropyl methyl cellulose, Zinc oxide, Bulking agent Cross-linked sodium carboxy methyl cellulose, Starch, Anticaking agent Silicon dioxide, Anti-caking agent Magnesium salts of fatty acids, Pyridoxine hydrochloride (Vitamin B6), Riboflavin (Vitamin B2), Bulking agent Hydroxypropyl cellulose, Cupric sulphate, Colour Iron oxides and hydroxides, Anti-caking agent Talc, Mediumchain triglycerides, Retinyl acetate (Vitamin A), Cyanocobalamin (Vitamin B12).
Alobu
reviewed 08.08.2023
How many months of pregnancy woman will be before taking it. And when will she stop taking it
Answer from Doppelherz
Please understand that we cannot adequately assess your individual situation from afar. Therefore, we ask you to consult a doctor regarding your nutritional needs during pregnancy.