Doppelherz aktiv Eye Vital Plus
glutenfree
lactosefree
Eye Vital Plus
with Omega-3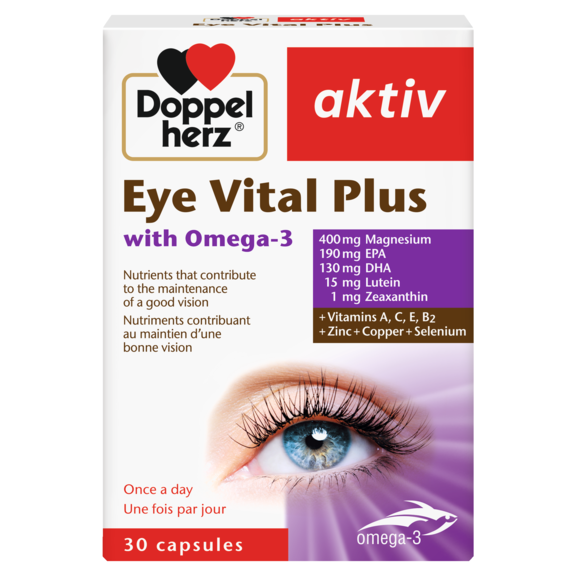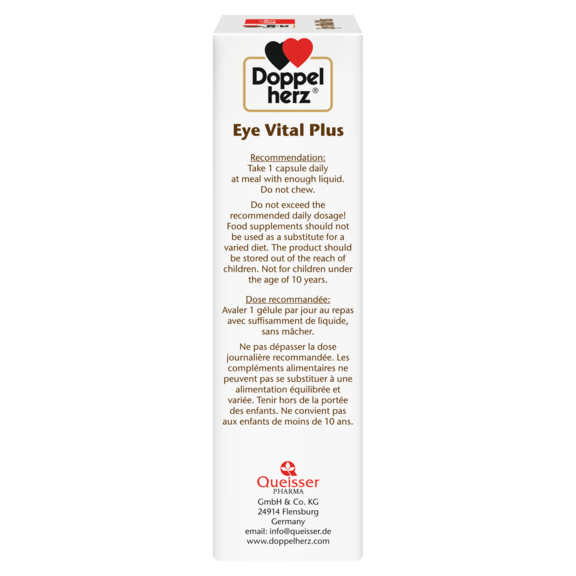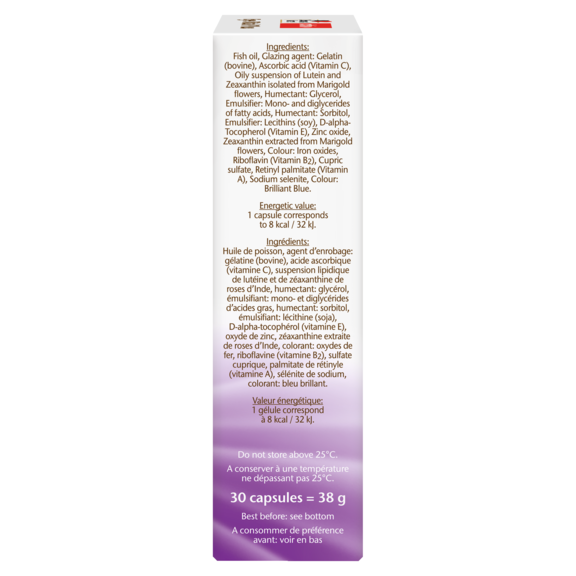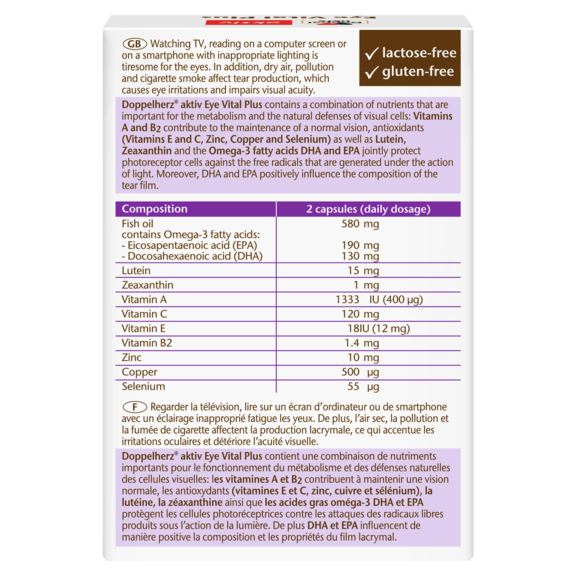 ---
Helps maintain eyes and vision healthy
Rich in lutein, zeaxanthin and the omega-3 fatty acids EPA and DHA
This formula supports tear-film constitution
glutenfree
lactosefree
---
Nutrients that contribute to the maintance of a good vision
Watching TV, reading on a computer screen or on a smartphone with inappropriate lighting is tiresome for the eyes. In addition, dry air, pollution and cigarette smoke affect tear production, which causes eye irritations and impairs visual acuity.
Doppelherz® aktiv Eye Vital Plus contains a combination of nutrients that are important for the metabolism and the natural defenses of visual cells: Vitamins A and B2 contribute to the maintenance of a normal vision, antioxidants (Vitamins E and C, Zinc, Copper and Selenium) as well as Lutein, Zeaxanthin and the Omega-3 fatty acids DHA and EPA jointly protect photoreceptor cells against the free radicals that are generated under the action of light. Moreover, DHA and EPA positively influence the composition of the tear film.    
Composition
| Ingredients | per capsule |
| --- | --- |
| Fish oil | 580 mg |
| Eicosapentaenoic acid (EPA) | 190 mg |
| Docosahexaenoic acid (DHA) | 130 mg |
| Lutein | 15 mg |
| Zeaxanthin | 1 mg |
| Vitamin A | 400 µg |
| Vitamin C | 120 mg |
| Vitamin E | 12 mg |
| Vitamin B2 | 1,4 mg |
| Zinc | 10 mg |
| Copper | 500 µg |
| Selenium | 55 µg |
Consumption recommendation
Take 1 capsule daily at meal with enough liquid. Do not chew.
Note
Do not exceed the recommended daily dosage. Food supplements should not be used as a substitute for a varied diet.
The product should be stored out of the reach of children.
Not for children under the age of 10 years.
Do not store above 25°C.
Ingredients
Fish oil, Glazing agent: Gelatine (bovine), Ascorbic acid (Vitamin C), Lutein suspension, Humectants (Glycerol, Sorbitol), Emulsifiers (Mono- and diglycerides of fatty acids, Soya lecithin), D-alpha-Tocopherol (Vitamin E), Solvent: Water, Zinc oxide, Zeaxanthin, Colours (Titanium dioxide, Chlorophyllin copper complex), Riboflavin (Vitamin B), Cupric sulphate, Retinyl palmitate (Vitamin A), Sodium selenite
Reviews
No ratings have been submitted yet. Submit your first review here.