glutenfree
lactosefree
Omega-3
+ Folic acid + B6 + B12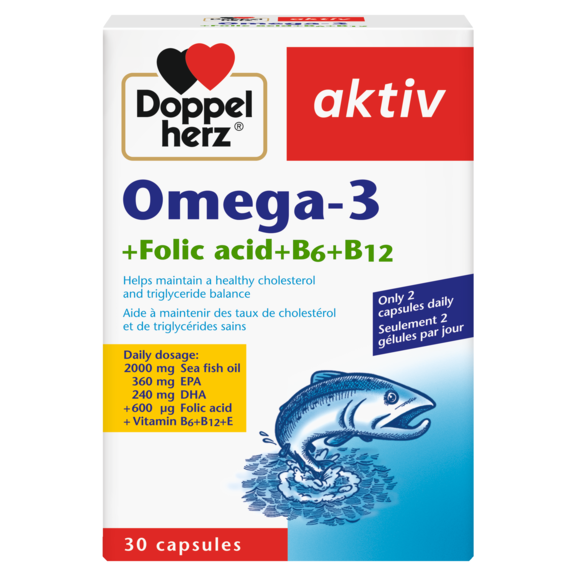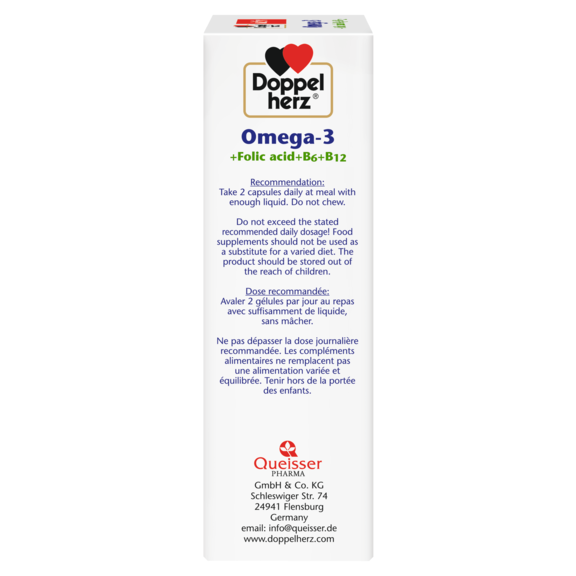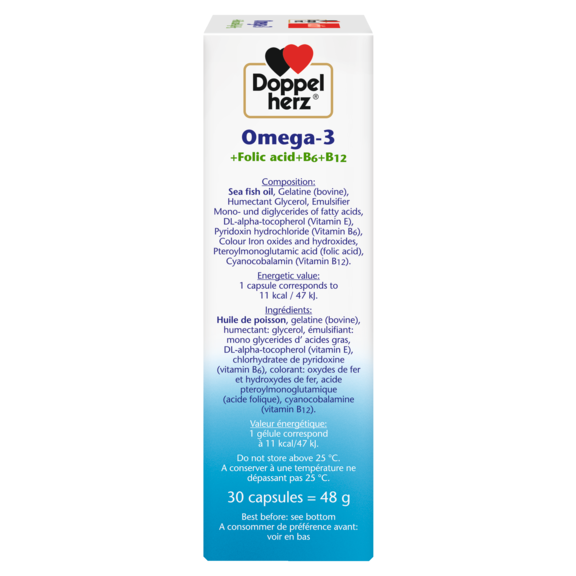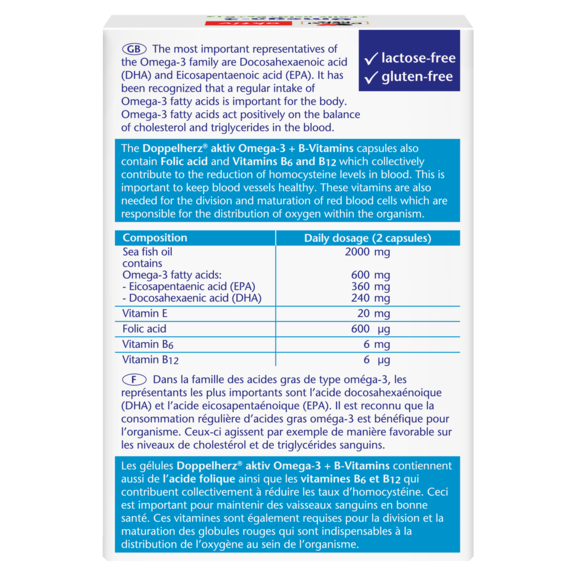 ---
Helps maintain a healthy cholesterol and triglyceride balance
360 mg EPA and 240 mg DHA per daily dosage
glutenfree
lactosefree
---
For all keeping an eye on cholesterol level and blood fat values
Well-being and capability can be influenced by lifestyle. Therefore, enough sport and a healthy diet are important elements. Also, for a healthy heart and cardiovascular system the Cholesterol level and the balance of Triglycerides and Homocystein plays an important role.
The beneficial effect of Omega-3 fatty acids had been detected among Eskimos in Greenland. Their nutrition is unbalanced and the intake of fat is very high, but their circulation is healthy also among elder people. Today it is known that this effect is based on the high intake of Omega-3 fatty acids by their main food category fish.

Omega-3 fatty acids play an important role for a heart healthy nutrition, in particular for the balance of cholesterol and triglycerides.

Omega-3-fatty acids in combination with Folic acid, Vitamin B6, Vitamin B12 have a positive influence on the Homocystein level. A balanced Homocystein level is important for the function of the vessels. Also, Folic acid and B-Vitamins are necessary for the genesis of red and white blood cells, which are important for cell division and regeneration as well as oxygen transport.  

Therefore, these nutrients play a role for a heart healthy nutrition.
Especially in case of an unbalanced diet, the supply with Folic acid is too low and doesn't comply with the recommend intake.
Omega-3 fatty acids are essential!
Omega-3 fatty acids can't be synthesised by the body and therefore should be taken in with food. Important fatty acids of this group are Eicosapentaenic acid (EPA) and Docosahexaenic acid (DHA).
Omega-3 fatty acids play an important role in a heart healthy diet. Additionally, these long chained, poly unsaturated fatty acids are needed for the function of brain and retina.
In case of a cholesterol and fat rich nutrition with a low intake of fish, the supplementation with Omega-3-fatty acids can help to balance the triglyceride levels. 
Composition
| Composition | per 2 capsules |
| --- | --- |
| Fish oil | 2000 mg |
| Eicosapentaenoic acid (EPA) | 360 mg |
| Docosahexaenoic acid (DHA) | 240 mg |
| Vitamin E | 20 mg |
| Folic acid | 600 µg |
| Vitamin B6 | 6 mg |
| Vitamin B12 | 6 µg |
Consumption recommendation
Take 2 capsules daily at meal with enough liquid. Do not chew. 
Note
Do not exceed the stated recommended daily dosage! Food supplements should not be used as a substitute for a varied diet.
The product should be stored out of the reach of young children.
Do not store above 25 °C.
Ingredients
Sea fish oil, Gelatine (bovine), Emulsifier: Mono- and diglycerides of fatty acids, Humectants: Glycerol and Sorbitol, Solvent: Water, DL-alpha-Tocopherol (Vitamin E), Pyridoxine hydrochloride (Vitamin B6), Colours: Riboflavin and Titanium dioxide, Folic acid, Cyanocobalamin (Vitamin B12)
Reviews
No ratings have been submitted yet. Submit your first review here.