Doppelherz aktiv For Joints
lactosefree
glutenfree
For Joints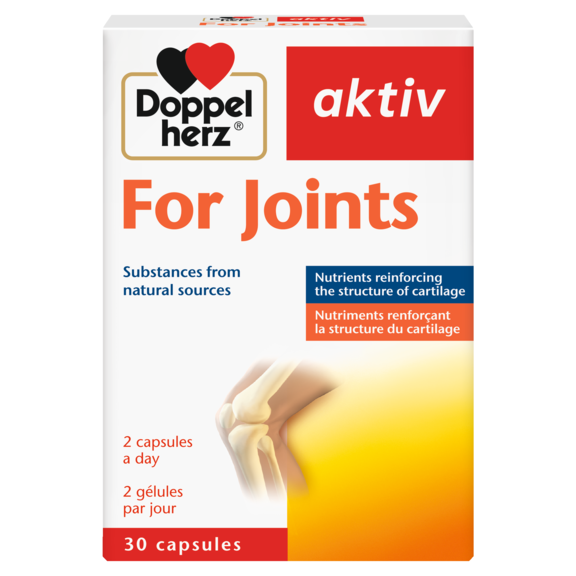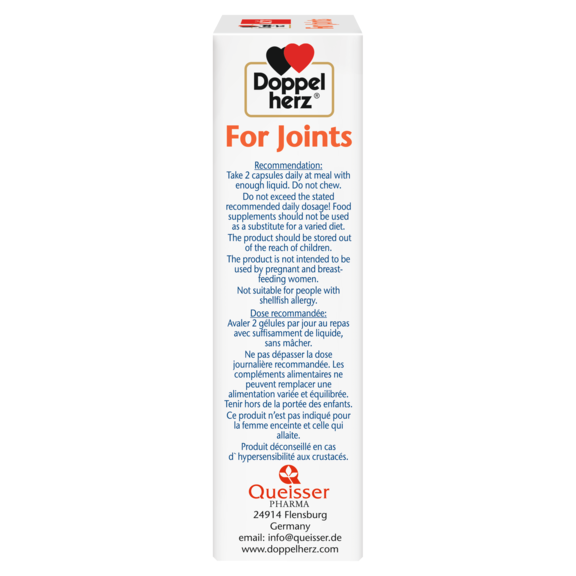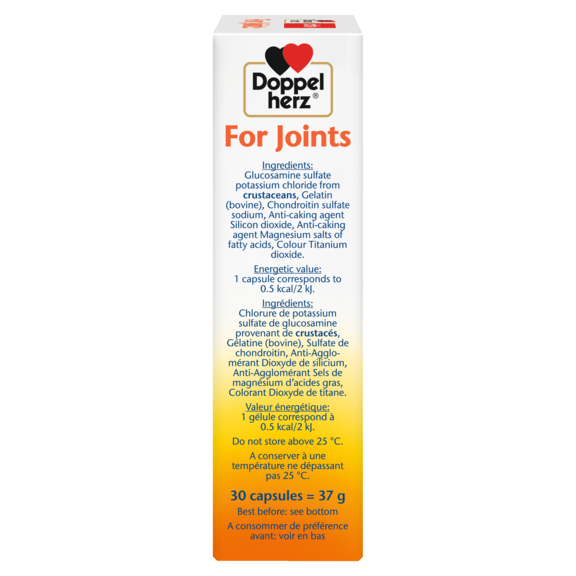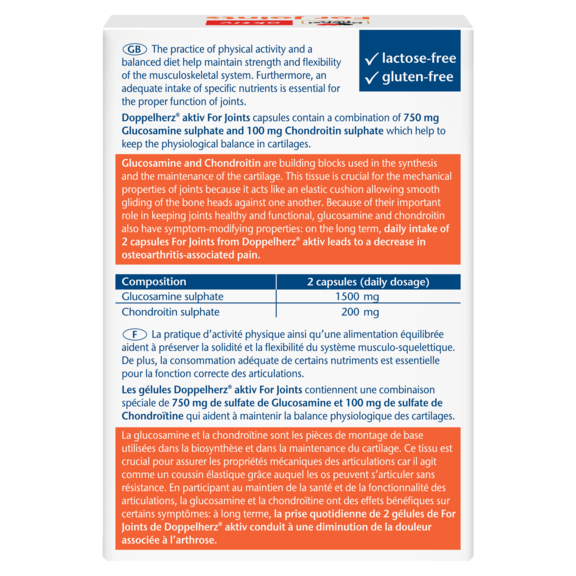 ---
To maintain cartilage structure and joint comfort
Glucosamine and chondroitin act synergistically to improve joint function
1500 mg glucosamine and 200 mg chondroitin per dose
lactosefree
glutenfree
---
Nutrients reinforcing the structure of cartilage
Having strong bones and healthy joints stands for unlimited mobility and quality of life at any age. The practice of physical activity and a balanced diet help maintain strength and flexibility of the musculoskeletal system. Furthermore, an adequate intake of specific nutrients is essential for the proper function of joints, especially if they are heavily stressed because of:
Overweight
Age-related cartilage degradation
Hard physical work
Congenital defect in joint alignment
Practice of competitive sports
Doppelherz® aktiv For Joints capsules contain a combination of 750 mg Glucosamine sulphate and 100 mg Chondroitin sulphate which help to keep the physiological balance in cartilages. Glucosamine and Chondroitin are building blocks used in the synthesis and the maintenance of the cartilage. This tissue is crucial for the mechanical properties of joints because it acts like an elastic cushion allowing smooth gliding of the bone heads against one another. Because of their important role in keeping joints healthy and functional, glucosamine and chondroitin also have symptom-modifying properties: on the long term, daily intake of 2 capsules For Joints from Doppelherz® aktiv leads to a decrease in osteoarthritis-associated pain.
Composition
| Ingredients | per tablet |
| --- | --- |
| Glucosamine sulfate | 750 mg |
| Chondroitin sulfate | 100 mg |
Consumption recommendation
Take 2 tablets daily at meal with enough liquid. Do not chew.
Tablets can be divided into halves.
Note
Do not exceed the stated recommended daily dosage. Food supplements should not be used as a substitute for a varied diet.
The product should be stored out of the reach of children.
Do not store above 25 °C.
Ingredients
One tablet contains: 750 mg Glucosamine sulphate and 100mg chondroitin sulphate
Reviews
No ratings have been submitted yet. Submit your first review here.