Doppelherz aktiv Eye Vital capsules
glutenfree
lactosefree
Eye Vital capsules
with Lutein + Zeaxanthin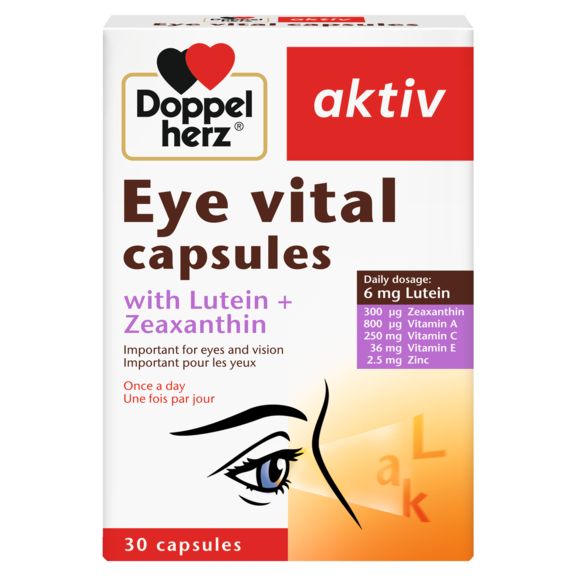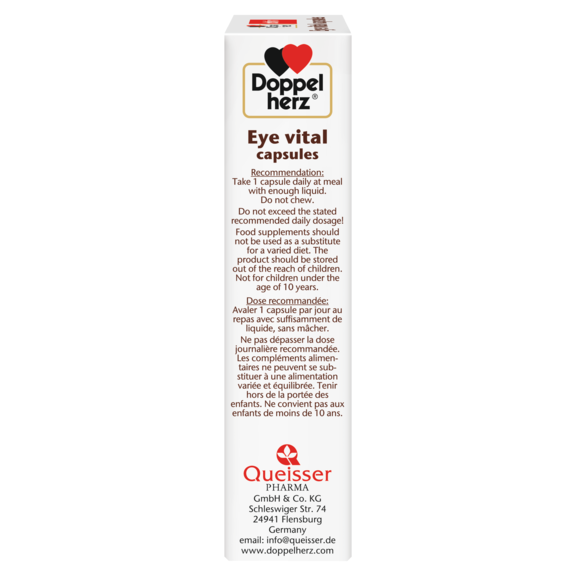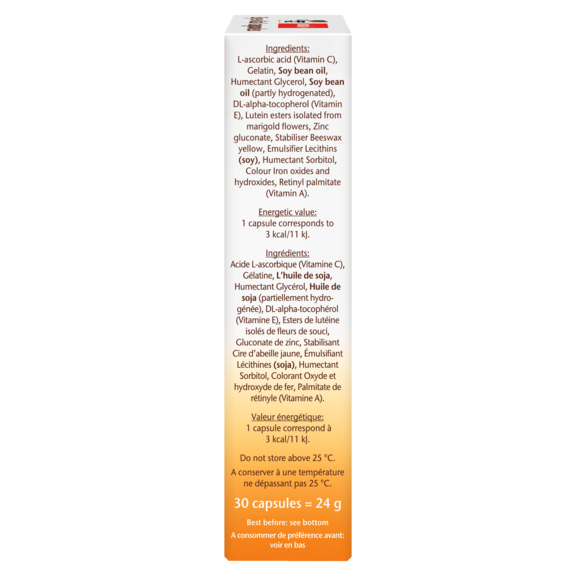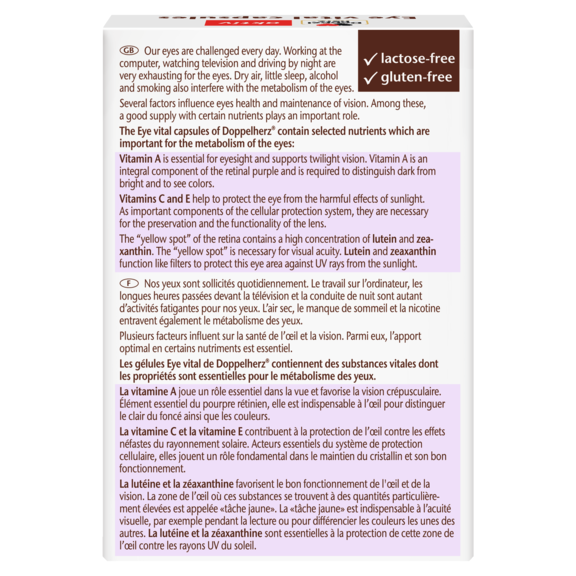 ---
To preserve vision while aging
Lutein and zeaxanthin concentrate in the retina where they play an important role
Vitamin A helps maintain night vision
Extra vitamin C, zinc and vitamin E to neutralize free radicals that may damage retina cells
glutenfree
lactosefree
---
Important for eyes and vision
Our eyes are challenged every day. Working at the computer, watching television and driving by night are very exhausting for the eyes. Dry air, little sleep, alcohol and smoking also interfere with the metabolism of the eyes. Several factors influence eyes health and maintenance of vision. Among these, a good supply with certain nutrients plays an important role.
Vitamin A is involved in the vision process and supports the eyes by changing from dark to bright as an integral substance of the purpur.
The vitamins C and E help to protect the eye from the harmful effects of the sunlight. As important components of the cellular protection system, they are necessary for the preservation and the functionality of the lens.
Zinc regulates the activity of more than 200 enzymes which are involved in nearly all cellular processes. As an integral part of enzymes zinc is involved e.g. in the utilization of vitamin A in the vision process.
Lutein and zeaxanthin are secondary plant compounds that belong to the group of carotenoids.  If nutritional intake is adequate, lutein can support the eye and vision function.
Composition
| Ingredients | per capsule |
| --- | --- |
| Lutein | 6 mg |
| Zeaxanthin | 300 µg |
| Vitamin A | 800 µg |
| Vitamin C | 250 mg |
| Vitamin E | 36 mg |
| Zinc | 2,5 mg |
Consumption recommendation
Take daily 1 capsule at meal with enough liquid. Do not chew.
Note
Do not exceed the stated recommended daily dosage. Food supplements should not be used as a substitute for a varied diet.
The product should be stored out of reach of children. Not for children under the age of 10 years.
Do not store above 25 °C.
Ingredients
Ascorbic acid (Vitamin C), Soya oil, Gelatine (bovine), DL-alpha-Tocopherol (Vitamin E), Glycerol, Lutein ester, Zinc gluconate, Sorbitol, Yellow wax, Soya lecithin, Iron oxides, Retinyl palmitate (Vitamin A), Peanut oil
Reviews
No ratings have been submitted yet. Submit your first review here.