Doppelherz aktiv Energetic Tonic
glutenfree
lactosefree
Energetic Tonic
Contains sugar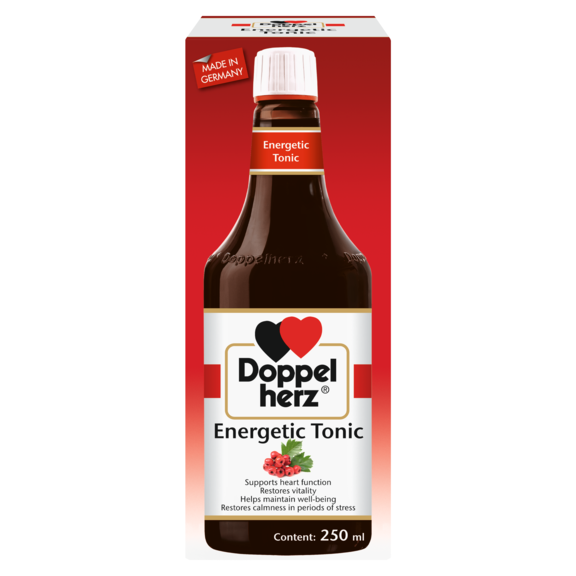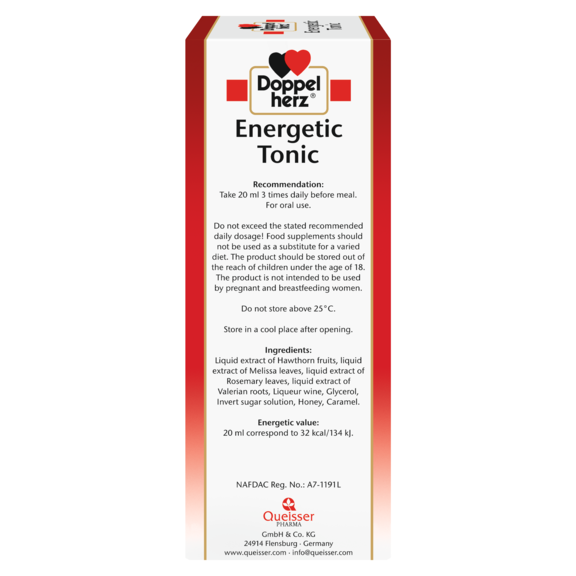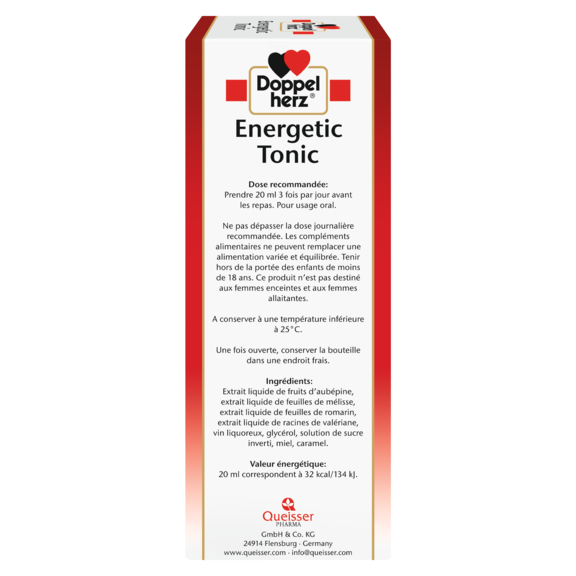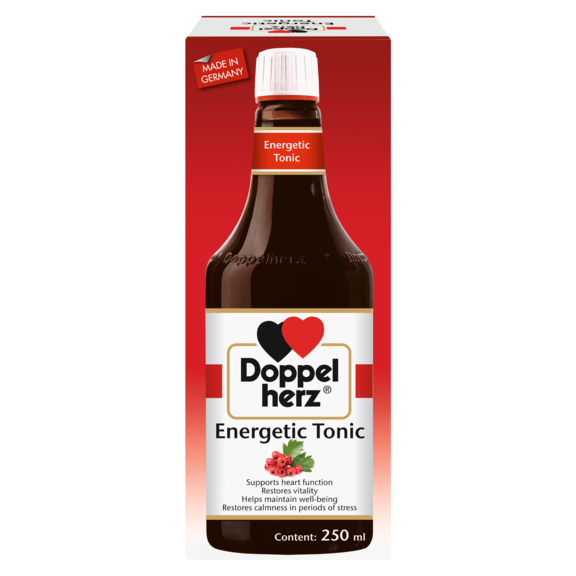 ---
To maintain well-being and restore calmness in periods of stress
Helps keep a healthy heart function and a healthy cardiovascular system
Contains 17% ethanol
glutenfree
lactosefree
---
Doppelherz Energetic Tonic was formulated to help maintain heart health and promote well-being in a natrual way
A strong heart and a healthy cardiovascular system are important for physical and mental fitness. This is particularly true in these times when increasing work pressure can result in agitation.
The Doppelherz Energetic Tonic has been developed to help against circulation problems and increased nervous overwork. The Tonic contains extracts of Hawthorn fruits, Melissa leaves, Rosemary leaves and Valerian roots. These plants are known for their positive effects on the cardiovascular system and the calming action on the nervous system.

Hawthorn stimulates blood circulation and cause a better supply of oxygen, which increases the physical ability of the heart. Also, Hawthorn has antioxidant properties that help fight inflammation, which contributes to keeping the heart in good health.

Rosemary leaves contain essential oils, which are traditionally used to support the cardiovascular system. Rosemary and Hawthorn complement each other in their positive effects.

The extracts of Melissa and Valerian, known for centuries for their relaxing and calming effects. They are useful in case of nervous tension or sleep disorders.
The Melissa leaves also reduce gastric symptoms, such as node sensations in the stomach.
Consumption recommendation
Take 20 ml 3 times daily before meal. For oral use.
Note
Do not exceed the stated recommended daily dosage! Food supplements should not be used as a substitute for a varied diet.
The product should be stored out of the reach of children under the age of 18.
This product is not intended to be used by pregnant and breastfeeding women.
Do not store above 25 °C. Store in a cool place after opening.
Doppelherz® Energetic Tonic contains 17 vol. % Ethanol. 
Ingredients
Liquid extract of Hawthorn fruits, liquid extract of Melissa leaves, liquid extract of Rosemary leaves, liquid extract of Valerian roots, Liqueur wine, Glycerol, Invert sugar solution, Honey, Caramel
Reviews
No ratings have been submitted yet. Submit your first review here.